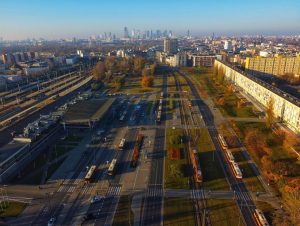 The first out of the three rounds of public consultation started for Warsaw SUMP (sustainable urban mobility plan) aiming at reforming and developing the entire transport system in the city and its metropolitan area.
"We want to reduce traffic congestion in Warsaw which translates into less pollution and emissions and improved quality and safety of public services and spaces for all people. Sustainable mobility is primarily about reducing the number of cars in favor of means of public transport and bicycles. That is why we are consistently implementing the programme of the New Centre of Warsaw and building a pedestrian and bicycle bridge across the Vistula River," Rafał Trzaskowski, the Mayor of the Warsaw said.
The authorities plan to reduce the number of cars using the city's infrastructure, to build new underground connections and pedestrian system to improve traffic safety for all users, including the passengers with disabilities.
The Warsaw SUMP is prepared by the city's Department for Architecture and Spatial Planning that started the analysis on the mobility and traffic habits, needs and demands. The public consultation is essential for the new transport strategy as thousands of residents are commuting to work and school every day and need more attractive public transport services to reduce the dependence of cars including in the city's metropolitan area.
The sustainable urban mobility plan will improve the mobility of residents by better using the existing infrastructure, the expansion of the public transport system and targeted and coordinated investment. The projects include the development of the public transport system and introduction of electric transport, the expansion of the bicycle network and pedestrian spaces.
In addition, the implementation of the plan will also deliver increased safety for road transport users, better coordination between urban passenger and freight traffic, improved access to public transport services and facilities and the expansion of the urban and suburban rail network. All these components are intended to raise the quality of life of residents and improve the efficiency and effectiveness of transporting people and goods.
The works on the elaboration of the sustainable urban mobility plan will be carried out by mid-2023.
Share on: