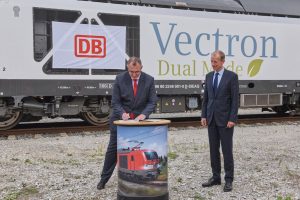 DB Cargo and Siemens Mobility signed a framework agreement for the supply of up to 400 Vectron Dual Mode dual-power locomotives. The initial order comprises 100 locomotives which will be delivered starting 2023.
Over EUR 1 billion is the value of the locomotive fleet comprising shunting and mainline diesel and electric vehicles.
The framework contract was signed by Ralf-Günter Kloß, Member of DB Cargo Management Board and Albrecht Neumann, the CEO of Rolling Stock at Siemens Mobility.
"Double the type of drive and double the benefit: we will grow and rejuvenate our fleet for our customers with a modern and powerful locomotive. On the other hand, we underline the environmental friendliness of railway transport. This locomotive suits us because it is like us at DB Cargo: big, green and powerful," Ralf Günter Kloß said.
The Vectron Dual Mode locomotives will be equipped according to DB Cargo requirements involving specific adaptations for the range of applications planned by the operator.
"With the Vectron Dual Mode, DB Cargo is investing in future-proof, sustainable and economical railway freight transport. As an alternative to the conventional diesel locomotive, the Vectron Dual Mode offers the best of both worlds: on electrified sections of the route, it is purely electric to save fuel and reduce maintenance costs. It is possible to switch to diesel operation without changing locomotives on overhead line sections," Albrecht Neumann said.
The diesel-electric locomotives will significantly reduce the diesel consumption and CO2 emissions. With the new locomotives, DB saves around eight million liters of fuel and 17,000 tonns of CO2 every year. DB Cargo's goal is to equip around 70 percent of diesel locomotives with innovative drives by 2030.
The Vectron Dual Mode locomotive allows a reduction in maintenance and energy costs of up to 53 percent. In electric mode, the locomotive reduced carbon dioxide, nitrogen oxide, and particulate matter emissions, resulting in an annual reduction of 950 tonnes of CO2, six tonnes of nitrogen oxide, and 37 kg of particulate matter compared with a standard diesel locomotive.
Share on: